Game Modes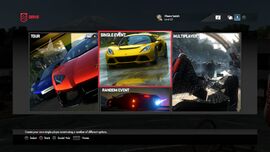 Game modes menu in-game.
Driveclub features many game modes for players to enjoy, each offering a unique racing experience. There are three main racing experiences in Driveclub: Race, Single, and Multiplayer. However, players can also choose a random event to play.
The Tour game mode offers a variety of challenges on different locations and with different vehicles. There are multiple tours in Driveclub, each allowing players to either race, drift, or complete a time trail. Each tour hosts certain requirements and challenges to gain stars. The more stars a player unlocks, the further they can advance in the tour. Challenges include finishing in top 3 of a race, beating Face-Off challenges, finishing within a certain lap time, etc. The tours usually restrict the playing to using a certain vehicle.
Single Event
Edit
In Single Event, there are the three modes of play that Driveclub features: Race, Time Trail, and Drift. The three modes are all available and playable on every location and track in the game.
Players can race against computer AI in a point-to-point race or lap race. THE GALAXY RANGERS Original Medium: TV animation Produced by: Gaylord Productions and Transcom Media First Appeared: 1986 Creator: Robert Mandell
Time Trial Edit
Players drive on a point-to-point or lap track as quickly as possible to achieve the shortest lap time possible.
Players drive through drift and speed zones, getting as many points as possible. Drifting at high speeds in drift zones and driving fast in speed zones rewards the most points.
Multiplayer
Edit
In Multiplayer, players can compete in racing events online against other human players.